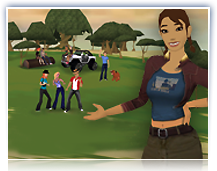 Welcome Home!
We're back, and are currently open to all 18+, not-banned, Avatars (old or new). Please check out our new There Blog for upcoming events!
Mini Cluster Status Block
Current News
Developer Guidelines updated. Policy & Outline added.

[06.25.2020]
Frequently Asked Questions
Please Read This
Welcome Home! We missed you!
* If you need to contact us, for any reason, please use "feedback@thereinc.com" (please include your avatar name in the body of all communications, thanks!)
* If you need to resurrect an avatar from 'old There,' please read the "Got Questions? Get Answers!" FAQ on www.there.com
* Subscriptions or Trials are required before your avatar can log in. If you don't have one, you will be challenged at login. If your popup-blocker prevents the subscription page from appearing, try this link: https://webapps.prod.there.com/banker/banker?subs=1
* We now offer "Free Silent Trials." All new avatars NOW start out as Silent Trials, and can log in for free without a subscription, for as long as they like. However, until you get a subscription, or pass the one-time age-check, you will be Silent. (Text chat will only work with official helper avatars).
* For a one-time payment of 50 cents (age check), you are promoted to a 'Basic Trial' member. Basic members are the same as in Old There, except they now get Music and The Explorer kit (but no Voice). Basic Trials include text chat with everyone.
Age checks are registered to your PayPal account, and a given PayPal account can have only a limited number of Avatar age checks.
* We now accept generic credit and debit card payments, in addition to PayPal, for ThereBux and Subscription payments. You might need to use a standalone browser to do this since our payment processor (Stripe) is not IE7-friendly.
* If you need to cancel a subscription, open the MEMBER INFO page of your avatar profile, and click the link "Manage My Subscription." That page will show your current subscription status and provide links for cancellation.
Note: Canceling a subscription does NOT delete your avatar, it just prevents it from logging in (to 3D) after any remaining time expires. If you decide to 'take a break' you should pick up PaZes and relinquish rentals (which otherwise might continue to use up rent while you're away).
* If you were the landlord of a hood in Old There that you would like to have restored, please send an email to feedback@thereinc.com with the subject "I am a returning landlord, ready to have my hood restored" and include your landlord avatar name and anything else you think might help us know which hood you meant.
ISSUES
* Please refrain from dropping large numbers of vehicles (if you're not planning on driving them around, that is), we periodically force put-away these idle vehicles, so you will be unable to have 'car lots' at this time.
CHANGES
* We added Free Silent Trials (completely free, but no text chat except with official helper avatars).
* We have restored the requirement that only "newbies and helpers" are allowed on the Welcome Walkway.
* The Peer Review system is up and running, which brings the Developer Submissions program fully back online. If you would like to be a Developer or Reviewer, just join the Developer Program! Also, developers may now choose to sell their original designs in TB or USD (or both).
* We have added a searchable help system, seeded with all the old help articles resurrected from 'Fuze'. Most ThereCentral pages have a 'search widget' at the top right. Just select 'Help' from the drop down and enter the terms you would like to search for. And please let us know if you don't find what you're looking for.
* As a new submission reviewer, you can now investigate the 'figLeaf' requirement by using Chrome to read the review pages. Support for other HTML5 browsers will come later.
* The new Developer rules allow a certain amount of non-hateful profanity on clothing. If you see something you would rather not see, just ignore the avatar and their clothing will change to something inoffensive. If you then un-ignore them their speech will return, but their clothing will remain inoffensive (until they leave and return).
* The center of Zephyr is now a 'sacred area', ensuring uninterrupted paintball and vehicles. Pazes may still be placed 'around the edges of' this sacred area. There is no 50m buffer zone requirement in this area.
* The rules for flying now allow flying over pretty much everything in the world, so long as you stay above the terrain by 80 meters or so.
* The B.A.B.S. transit system has been restored.
* Legacy developer submissions (items submitted and approved in Old There) can be migrated to new There. If you were a developer in old There, all you need to do is recreate your avatar in New There and then have it re-join the Developer Program. Submissions are migrated on Mondays.
* We have turned off the Rental Reservation System. All UN-RENTED FunZones have reverted to company ownership and been made available for 3rd party hosting. All UN-RENTED Houses are available for rental on a first come, first served basis.
* We added a "Claim Possessions" tool (it's on your profile/member info) which lets you claim the possessions of any old There.com avatars you had, (but that you don't want to re-create and pay the monthly fee for). Note: you can EITHER recreate an Old Avatar OR claim its possessions. You cannot do both.
* We continue to add servers as the money rolls in. Currently we are operating 28 terrain servers and maintaining 30 steps per second on all of them. (That's 840 steps per second!)
* We have a 'Gift Subscription' feature (so if $10 is a life-burden, you might be able to get a gift subscription from a friend who previously used a $10 bill to light his special monthly cigar.) A link to this can be found on ThereCentral, and on your Avatar profile "Member Info" tab.
* Developers may now list their new item sales for purchase by ThereBux, USD, or both. USD Sales are handled entirely by PayPal, with the buyer sending money to the seller (and the seller sending the wholesale cost to Makena) as part of a PayPal "Adaptive Chained Payment for Digital Goods". Developers need only configure their Developer Profile with the PayPal account to receive the income, and then check the 'USD' box when listing their sale. You will probably want a PayPal 'merchant' account, set to accept 'micropayments' to keep the PayPal fees as low as possible. NOTE: jinXplorer does not know how to list a sale for USD.
=====
Please continue to send all bug reports to 'feedback@thereinc.com' with as much info as you can provide, including screenshots where appropriate. ALWAYS INCLUDE YOUR AVATAR NAME, PLEASE.
And thanks again for coming back!
- Team Phoenix, There.com
ThereIM Status
ThereIM is our lightweight chat client.
It is currently available without a loginlimit to all avatars.
However, a flaw in the ThereIM installer requires that you take an extra action after installing ThereIM. Please check Thumdar for details.
AVG members having login issues / no avatar appears
After logging in successfully, I never see my avatar appear in world. I just see some mountains on a blue background?
Assuming the servers are not down for maintenance, this generally means that security software (on your PC or in your router/network) is
blocking or not forwarding some forms of internet data traffic. Some of our client/server interactions depend on "UDP" packets (both
incoming and outgoing) in the port range 2300-2399. These need to be 'not blocked' by your firewall/router/NAT. And in some cases you
might need to set up explicit "port forwarding" rules in your router so it knows which PC on your network should receive the packets.
While we can't provide much specific help for your particular AntiVirus package, be aware that AV packages are taking on
more firewall-like roles, so what looks like a firewall issue might be some add-on AV functionality. For example, if you
use the AVG antivirus package, it has a module called Web Protect which is causing this symptom in Dec 2015.