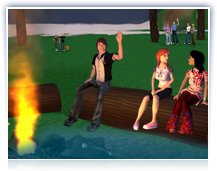 There is back!
Thank you for your interest. There3D and ThereIM clients are available for download for members 18 and older.
Member Login & Install Resources
Forget your avatar name?
Are you having trouble logging in because you forgot your avatar name? No problem! Just enter your email address where you'd normally enter your avatar name.
Forget your password?
If you've forgotten your password,
just enter your avatar name and email address and we'll send it to you right away.
If you've chosen a secret question and answer, you can use them to set your new password. If you haven't chosen them, or have forgotten them, we'll email a new password to you.
Still need help?
If you feel you need more assistance, please contact our Help Team and give us as much detail as you can about the problem you're having.