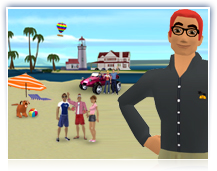 Our Company. Your World.
About There
There is a 3D social world that first launched in 2003—before 2D social networks were even imagined. In 2005, we branched out to form two companies, Makena Technologies and Forterra Systems. And today, nearly two million people have become members, making There the destination of choice for anyone who wants to experience the power of chat combined with the fun of online games.
Of course, this hasn't gone unnoticed. We were featured as the cover story of Business 2.0 and have been profiled in The Wall Street Journal, The New York Times, Forbes, Time Magazine, The Boston Globe, San Jose Mercury News, Advertising Age, Wired News, TechTV, Gamespot, The Washington Post, CBS MarketWatch, ABC News, and many other broadcasts and publications.
Corporate brands that have had a presence in There include Coca-Cola, Scion, bebe, K-SWISS, NBC Universal, Hush Puppies, SPIN, Moen, the Country Music Hall of Fame and Museum, Beelya, Eberjey, Bravado, Fandango, and Blair Wear.
Makena Technologies
Makena Technologies is a privately-held corporation, headquartered in Silicon Valley, California. Entrepreneur Michael Wilson founded the company in 2005. Makena develops and manages all the There consumer related products available today.
From 2006 to 2009, Makena Technologies partnered with MTV Networks to provide the technology platform for their virtual worlds. These include Virtual Laguna Beach, The Virtual Hills, Virtual Pimp My Ride, Virtual Real World, Virtual Newport Harbor, Virtual Video Music Awards, Virtual Kaya, Virtual Rob and Big, and Virtual Life of Ryan. Makena Technologies also has a partnership with Trilogy Studios.
In 2008, Makena Technologies launched ThereConnect, allowing There members to showcase their in-world profiles, skills, groups, and upcoming events on their Facebook pages. They also announced ThereIM, a light instant messaging client where users can communicate with other members' avatars, whether or not they are signed into the virtual world at the time.