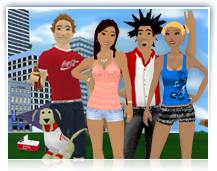 The Opportunity Is There.
There offers corporate and advertising partners a depth of industry knowledge on consumer brand engagement in 3D social worlds. With a wealth of data on the consumption of branded virtual goods and a robust community feedback mechanism, There has been the choice for world class brands, like Coca-Cola, Scion, and SPIN because of the unparalleled expertise, a treasure trove of statistics, comprehensive brand protection and customer security available to marketers investing in virtual worlds today.
Coca-Cola's CC Metro

CosmoGirl! Village

Club Scion
The information is priceless
Imagine a world where you can demonstrate a new product, test a prototype, or spin out a new brand and get instant real-time reaction from your customers. This isn't some after-the-fact questionnaire. It's a meticulous measuring system that tracks how your consumers actually use your product on a day-to-day basis. The information it reveals about behavior is robust, granular, and absolutely authentic. In fact, the precision of these metrics makes polling, surveys, and focus groups seem positively antiquated.
The demos are everyone
Though virtual worlds are still considered trendy and cutting-edge, the majority of our members would hardly describe themselves that way. As opposed to the perceived male, techie crowd of some virtual worlds, our highly social members come from all demographics, regardless of age, gender, or location. Though we do enjoy a strong social gamer sector, There is more like a social network located in a 3D world. And because it's so easy to use, we're able to attract and retain a much wider demographic membership.
The metrics are eye-opening
There may be a virtual fantasy land for our members, but it's a very real business breakthrough for our partners. In fact, global corporations like Coca-Cola and Toyota, media companies like MTV, and fashion leaders like Nike and Levi's have already gained an enormous amount of information about the difference between what their customers say and what they actually do. What about you? Is your company ready to step out of the limitations of one-world marketing and into the full potential of two?