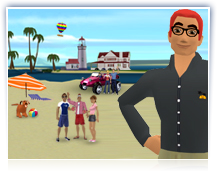 Looking For A Cool Job?
We're an everyday online hangout where members can relax with their friends, meet new people, play games, go to parties, explore, create, and do a million other things in an exciting and colorful 3D world.
Since our launch in October 2003, hundreds of thousands of people have tried us and we've become the destination of choice for anyone who wants to experience the power of chat combined with the fun of online games.
We were featured as the cover story of Business 2.0 and have been profiled in The Wall Street Journal, The New York Times, Forbes, Time Magazine, The Boston Globe, San Jose Mercury News, Advertising Age, Wired News, TechTV, Gamespot, The Washington Post, CBS MarketWatch, ABC News, and many other broadcasts and publications.
We currently do not have any open positions.
Please check back regularly! Thank you for your interest.