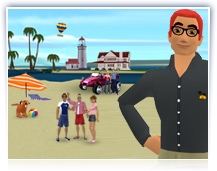 We're Just Like You
Pardon our manners. We haven't introduced ourselves! We're the engineers, designers, managers, and other team members who put the "there" in There. We're the ones who've put all our hopes, dreams, imagination, creativity, skills, and experience into There. so that people like you could have an everyday hangout to keep connected to friends.
We wanted to create a place where anyone—no matter who or where they were in the real world—could kick back, chill, and hang out with their favorite people. So we created a world of continuous fun, over 20,000 different clubs to join, and thousands of cool places to play games, meet someone new, or just go exploring.
Most of all, we wanted to help people deepen their friendships. We know how hard it is when someone you care about moves away, or when your crew splits when school is over, or when you just want to be with your best friend even when you're miles and miles apart.
So come on in! It only takes a minute to sign up and another minute to meet someone new. And before you know it, you'll be inviting your family and friends—to meet your new family of friends.