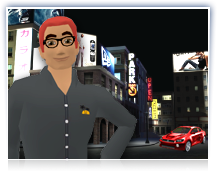 Michael Wilson, CEO
Michael has over 25 years of experience in the fields of online community and ecommerce, as well as an unparalleled record in establishing the early organizations and technologies of legendary start-ups. In the 80s, he was Employee #75 at Oracle, where he developed the product for Mainframes, CICS, and Macintosh, contributing to Oracle's unprecedented growth and success. In the 90s, he signed on as Employee #5 at eBay, where he developed the foundational architecture that has made eBay the most successful ecommerce site in the world. Today, he is focusing all this extraordinary experience and expertise on his third successful start-up, There, which under his leadership has seen its membership explode into the millions, continues to break new ground in 3D social networking, and appeals to one of the broadest demographics of any virtual world.
Michael started his career at Macy's, where he built the world's first electronic point-of-sale system, built the world's first magnetic merchandise ticketing system, and became the youngest senior executive in the history of the company.
He then moved to Chevron, where he provided management and software support to Chevron's 30,000 online members—which, during that period, was the largest online community in the world.
While at Chevron, Michael heard about Oracle, saw and understood its potential, and—though he was advised against it—joined the company in its early startup phase. Once inside, he made significant contributions to development and stayed with the company as it went on to become the second largest software company in the world.
In 1994, Michael was on the frontlines of invention again at a place called daVinci Time & Space. Here, he helped develop a virtual world for kids on an interactive TV platform. He then signed on to do community service as the VP of Development for The Well and led the development of Well Engaged, which was one of the first web-based conferencing systems and is used by the Wall Street Journal for online discussion of articles and topics of interest.
While at The Well, Michael was engaged by the eBay founders to help them build a very early online auction proof-of-concept site. As VP of Product Development and Site Operations, he led the development from beta with a scattered community into a fully thriving product through the IPO and beyond. Today, eBay is the largest and most successful ecommerce site in the world.
In 2001, Michael was looking for his next big thing—and he found it in a little virtual world called There. As Chief Executive Officer, he brings a unique blend of engineering, community, and ecommerce leadership to the company, which can be seen in the fact that this community has jumped to almost two million members in just under eight years. Once again, he saw potential where others only saw risk, and he was right again.
In his spare time, Michael supports both the The Maya Foundation and the Ronald McDonald House in Palo Alto and is passionate about bringing healthcare to those who are unable to afford it. In addition, remembering how much telescopes meant to him in his youth, Michael started the Tzec Maun Foundation which offers free access to telescopes for students and teachers.
In addition, Michael is a highly-regarded expert on web communities who has appeared on Dr. Phil and has spoken at several prestigious conferences and summits, including ANA Emerging Technologies, Glasshouse Meeting, Parks Associates Conference, Digital Hollywood, Game Developer's Conference, Virtual Worlds Conferences, Min Day Digital Media Summit, and TED.