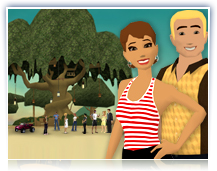 Get Started
There is an exciting virtual world where you can create your own 3D character (called an "avatar"), meet and hang out with friends, and talk to each other using real-time voice or text chat.
Sign up now and in a few minutes you'll be able to explore hundreds of different locations, build your own home, strut down a fashion runway, deal some cards, fly, dance, race, party—whatever you can imagine doing with friends!
Easy. Fun. Free.
We've included some frequently asked questions to get you started.
Frequently Asked Questions
How do I create my avatar in There.com?
It's easy. Just click on the orange "Join Now" button on this page. It'll take you to the home page. Once you do, you'll get an avatar that you can shape, color, and customize any way you want. You'll also get a new set of clothes, a new Hoverboard, and your own unique name! If you had an avatar in 'Old There', you can resurrect it (and get its stuff back) by creating your new avatar using the old name and password.
I was a member of Old There, how do I re-activate my old avatar?
Technically, you have to create a NEW avatar (using www.there.com). But when prompted for the new avatars name and password, enter the OLD name and password. That tells us you really want to resurrect the old avatar, and we will then migrate your old possessions to the new avatar with the same name.
Can I change my avatar look? How?
You can change your avatar's look by visiting a spa. Once you're inside, all you have to do is move the sliders to create the look you want. And if you need to find a location, check out our Spa List.
Want even more options? Check out the hairstyles, accessories, and endless clothing choices in our Shop and Auctions.
Do I need a PayPal account?
Our platform offers two types of payment systems. You can make purchases through PayPal or you can use the alternative credit card processor Stripe. When you're ready to purchase Tbux or start a Premium Membership you'll see both payment options available on the payment page.

How do I communicate in There?
When in There, you can just type right in the window to begin chatting with someone. Your chat will appear in a bubble over your head. In addition to basic text chat, you can also talk to others via instant message (IM), or our ThereVoice chat feature.
How do I get my friends to come in with me?
It's easy to invite your friends to come and hang out with you in There. When you use our Refer a Friend page you can enter your friends' email addresses and even include a personal message.
How can I find people to do things with?
If you simply want to know where lots of people are hanging out and jump into the action, you can find an up-to-the-minute list of the busiest places in There on the Places page. You can also check out the Activities page to find a list of events that are happening now. Or you can join one of over 20,000 fun and interesting Clubs!
Can I do this on a Mac?
Not yet. But we're hard at work on a version of There for the Mac, so stay tuned.
What Is ThereVoice?
ThereVoice is beyond awesome! Finally, you can say what you want to say without worrying about your spelling. Forget "LOL". Go ahead and laugh out loud!
Using ThereVoice is way simple. After a quick-and-easy set-up, all you have to do is speak normally through your headphone or the mic on your computer. You'll be to motor-mouthing with your friends, whispering hello to someone new, and karaoke-ing with the whole gang in no time!
Don't let the world pass you by. Join the fun, get in on the action, - and hear what everyone actually sounds like! Get ThereVoice today!