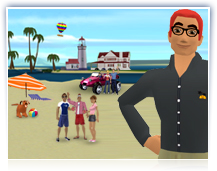 Quick Facts
In a rush? You can count on us to provide facts. Quick Facts.
Frequently Asked Questions
What is an avatar?
An avatar is an Internet user's visual representation of himself or herself. In There, an avatar takes the form of a three-dimensional person that can be customized in detail to each member's specifications. There's avatars are the best in the business! They're attractive, sentient, and expressive, and include facial expressions, gaze tracking, breathing, and idle movements to achieve a life-like feel that's unparalleled in any other virtual environment. There's avatars can walk, run, jump, dance, and ride a variety of vehicles throughout the world. Unlike avatars in other virtual worlds, they have a natural, fluid movement based on a set of animations.
For example, running is not simply a faster walk—it's a separate complex animation that actually looks like a running movement. Our ACC (Avatar Centric Communication) is a unique, patented method of avatar interaction. Members even create live action movies using avatars as actors. They're that good.
What is a virtual world?
Technically, a virtual world is a computer-simulated environment accessed by multiple users through a graphical user interface. Individual interaction takes place through the use of an avatar. Another way of describing it is to say that it's an animated world where you, your friends, and people from around the real world get together as animated characters and have a fun and exciting time!
What is There?
There is a social virtual world where people go to spend time with friends, meet new ones, and have fun in a beautiful 3D environment. There was created to take online communication to a new level, allowing people to incorporate emotion, body language, and even voice into real-time communication with one another—just like in real life. People from all over the world have joined There and grown it into a diverse community with something exciting to offer almost anyone.
How do people get There?
There will be available in the Fall of 2011. Currently members 18 or older may download ThereIM.
Is There a game?
Unlike most Massively Multiplayer Online (MMO) environments, There's focus is primarily on social interaction and community. While there are many card, trivia, and other games in-world, There itself is not a game in the common sense of the word. Instead, it's an open-ended user experience. There does not force a narrative structure on users or direct them through a specific path throughout the world. There simply provides a space for people to gather online with a variety of fun activities to participate in, and then lets them decide how to shape their own experiences.
If it's not a game, what do people do in There?
There is all about meeting people and socializing. Every day, people meet others from all over world and build meaningful friendships. Some popular social activities include:
Shopping for clothing, cosmetics, vehicles, and home furnishings to customize avatars and in-world properties
"Leveling up" in competitive vehicle racing with There's progressive scoring and ranking system
Participating in and hosting group activities including trivia contests, fashion shows, card games, paintball games, and dance parties
Designing and selling items in the auction system for use by other members in-world
Does There cost money?
Yes, There has a $10 monthly membership.
This includes your avatar, access to both the 3D world and ThereIM, software updates, and the ThereVoice feature. For more details, check out the member programs page.
Is There difficult to use?
There is incredibly user-friendly. Over the years, we've tested over 23 versions of There to create an experience that now allows members to begin interacting with others and navigating the world moments into their first visit.
How does There work with advertisers and brands?
There offers six marketing solutions to companies looking to expand their marketing and advertising campaigns into a virtual world. Whether it's a live event, branded merchandise, custom environment, or custom world, There offers a complete solution with rich reporting and tracking capabilities.
Does There protect companies' brands from copyright infringement and piracy?
Yes, There's brand security management system protects companies' brands by managing every aspect of distribution in-world. Any content submissions that infringe on an organization's or individual's intellectual property or brand are rejected outright by our Submissions Team. And once pre-approved branded items are in-world, no one can make digital copies, which gives companies complete control over the sale and distribution of their content.
What are the minimum system requirements for running There?
There runs on nearly any PC manufactured since 2003.
For computers with a CPU speed between 800MHz Pentium III and 2.3GHz, members need the following minimum system requirements:
Windows 2000 or later
256MB RAM
56K Internet connection
500MB free hard disc space
Graphics card requirements:
NVIDIA: Any GeForce or better, with 32MB of VRAM
ATI: Any ATI Radeon 7200 or better, with 32MB of VRAM
Other brands: Any graphics card that supports hardware transform and lighting, with 32MB of RAM
For computers with a CPU speed greater than 2.4GHz, members need the following:
Windows 98, ME, 2000, XP
256MB RAM
56K Internet connection
500MB free hard disc space
Any DirectX 8 compatible graphics card with 32 MB of VRAM (includes NVIDIA TNT 2, Intel Extreme, Radeon 7000, Radeon IGP, etc.)
Does There require broadband Internet access?
No, There does not require broadband access. Because of its unique architecture, it can run on dial-up. However, you will get the best experience with broadband Internet speeds.
What Is ThereVoice?
ThereVoice is a 3D audio feature that was created when the world was first launched. It enables members to speak with other members, using a proprietary VOIP technology.
It is incredibly simple to use. After a quick-and-easy set-up, all you have to do is speak normally through your headphone or the mic on your computer. It enables members to have real time conversations and leaves the keyboard free for other things like driving and dancing.
Using ThereVoice brings a whole new dimension to conversations in There. Group meetings become much more spontaneous and gatherings are more lively. The mix of different methods of communication really enables members to communicate in the method most comfortable to their personality.