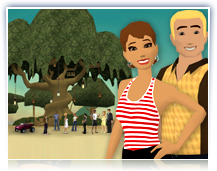 Safety FAQs
Here are some of the questions we get asked most frequently about There.
If you have another question that isn't listed here, you can contact us at Customer Support.
Frequently Asked Questions
What do people do in There?
They do practically everything and anything they can imagine! First, they create their own avatars, which are animated versions of themselves. Then, they play and hang out with their friends just like in real life! They can race on wheels, on boards, and in the air. They design and host fashion shows. They team up for paintball games. They own and decorate virtual homes, compete in contests and games, chat with friends, and do all sorts of other fun things.
How old do I have to be to become a member?
There is now open to members 18 years of age and older.
Does it cost more to be in a civil area?
Your monthly membership gets you access to our entire world. The Behavior Guidelines outlined in our Terms of Service will be enforced in all areas. Any extra avatar clothes, vehicles, or home furnishings can be purchased with Therebucks, our official currency. Therebucks can be purchased with a credit card or through PayPal.
What steps do you take to ensure that the experience will be social and civil?
We enforce strict PG-13 content requirements by filtering inappropriate language from text chat and reviewing all items to make sure they meet our standards. For example, all new avatar clothing must go through a submissions process, which involves full review by a staff member before appearing in the Shop. Inappropriate submissions, including clothing that makes the avatar appear to be nude, are rejected.
Content standards are also applied to in-world interaction. Our Behavior Guidelines prohibit explicit sexual language and interactions. Members who violate these guidelines will be subject to moderation actions, including their immediate removal from the service for repeated or severe infractions. When a member has been banned, the account is disabled and steps are taken to prevent future log-ins from that machine.
What steps do you take to protect my privacy?
As our Privacy Policy states, we do not collect or share members' personally identifiable information unless authorized by the member to do so. Members are required to supply an email address for account communications and a birth date for age verification, neither of which are displayed on a member's Profile Page. Members will also need to provide personal information associated with the credit card used to pay for the account. However, we will never share this information or make it public.
What type of information is displayed on my Profile Page?
Profile content is related to the virtual environment rather than the offline world. The one exception to this is that a member's geographical location is identified by country. But profiles do not include name, address, city, phone number, school, or any other personally identifiable information that might allow someone to locate a member offline. In addition, members may change the privacy settings of their profiles at any time so that the profile will only appear to those on their Buddy List. Or they can choose to not display it at all.
What can I do if there's a problem with another member?
To instantly cut off all communication with another avatar, members can easily place that avatar on their Ignore List. When they ignore someone, they no longer see what that person says and they will not hear them in ThereVoice chat. The person they are ignoring will not be able to email, IM, summon, invite them to a club or event, give them anything, lend them anything, or open a trade with them.
How do you let your members know about safety issues?
We recommend many ways to stay safe online. This safety advice is not only displayed at the bottom of every web page, but also prominently in high-traffic in-world areas. In fact, you can help the There community keep safe by taking a moment now to review our Safety Tips.